Toy Trader
Die Cast Insider - April 1998
© 1998 Paul M. Provencher

Best of the Net Award!

http://kidscollecting.miningco.com
"It might be worth something someday"
A number of cars have been found recently in the wrong packages. The most common error seems to be a package that does not contain the vehicle named on the front. This actually happens quite often. In some cases I have seen the same package/car error combination on the shelves in several stores. There are also cars in the packages backwards and upside-down.
Collectors have become very detail conscious these days, hoping that every variance of a product is going to be the rare one, worthy of high resale value. It is funny, in a way, because these mistakes could also be viewed as defective merchandise - and hence be considered worthless!
A recent example of packaging error is the Mattel Hot Wheels Treasure Hunt Viper. I cannot get a straight answer from anyone, but the prevailing wisdom seems to be that the red Viper with gold BBS style wheels is NOT a Treasure Hunt, but in fact, a series car from 1998. Of course a lot of controversy has surfaced about exceeding promised production limits on Treasure Hunts. There have been claims that the car has been recalled. I have not yet heard a report that one has been found in any other packaging configuration. But current auction prices range from $15 to $40 (includes sold items only); in the same price range of other 1996 Treasure Hunts sold in the same market. The bottom line for me is this - If I find one, no matter what package it is in, I will add it to my collection to go with the other fifteen or so variations of this casting. I will not likely pay more than a dollar or two for the pleasure. Moreover, if it is not in a Treasure Hunt package, I will probably open it.
Mint in Box
I have been asked a lot of questions lately about the relative value of loose versus in-package cars. It seems that there is an increased awareness that the value of a collectible many years down the road hinges on the presence/condition of the package. It is something to see when you go to an auction and see empty boxes for sale getting decent size bids, sometimes exceeding the price of the original contents!
Most of today's "collectible" toys that survive into the 2020's are probably going to be in packages. I don't know where you are with collecting these things, but I am almost willing to bet that most active collectors have most, if not all their toys in packages. Oh I have the packages alright, but really, I can't see having the toys and not being able to handle them. I have not opened the majority of my really limited edition items. But I have opened just about everything else.
I think, and this is only my opinion, that 99.9% of the die cast output of the '90's is going to be panned at serious antique toy auctions 20 or 30 years from now. By Mattel's own reckoning, they make several million die cast toys each year. This kind of output just about guarantees that anyone who wants this car or that can pretty much get it. When collectors accept the claim that 25,000 pieces of an item qualifies it for limited edition status, it is pretty easy to see that collecting has changed.
One cannot compare these toys to those produced during the 1920's and '30's when there was not much automation and more of the manufacturing process was done by hand. Add to that, the fact that toys made during that period were typically not hoarded. Times were tough and if one could afford to buy such things, they were put into use by the children who got them.
I find it more awe inspiring to attend an auction of high quality toys from this period than I do going to any one of a number of modern-day "shows". Just think of the incredible odds that a stamped-steel toy made 60 or 70 years ago would survive in any kind of good shape. Packaging of those times, not to mention the considerably more casual attitudes to marketing, merchandising and product delivery, all together pretty much guaranteed that very few of the toys even made it to the shelf in mint condition.
The toys were made of much more perishable materials. Think of all those Corgi and Dinky cars with the crumbling tires and rusty bases. They got played with, sometimes by several generations of kids. Therefore, when you see some of these toys in honest good shape, it is mind boggling. So are the prices. I attended a major auction in New Hope, PA several years ago. In the span of a few hours, I estimate that over $500,000 worth of items were slammed down by the auctioneer. This was at a rate of several thousand dollars a minute. The truth be told, the collection sold was stunning, a pleasure to behold, even as it was being scattered to the four corners of the earth. It represented a lifetime of collecting by two dedicated individuals. To my best recollection, none of the toys I saw there could have been bought new and hoarded. They were too old for that to be possible.
The die cast toys of today are made of tougher materials. They are made in huge quantities. Most of the major manufacturers produce the same subjects repeatedly with countless variations. Speculators drive to stores every day and skim the latest items from the shelves, as a "service to their customers". We buy them and stash them away in dust-free, water-tight places, safe from the light of day. The toys are not opened. They are not played with. They are lucky if they even make contact with the air we breath! Many could almost claim that their toy has never had human eyes laid upon it. Thirty years ago, there were people who did this, but nothing like what we see today.
I think many have lost sight of what collecting is all about. On the other hand, perhaps they never learned. I do not mean to slight the dedicated who have always bought what they like, with no real thought about what future values might be. I know that there are thousands of collectors that genuinely love the objects of their obsession. For me it has always been a thing with cars of all sizes. Others like my friend in England collect "just T-Birds". Some collect a particular brand, others a particular color. Not all of us are spend a lot of time calculating the future worth of our collections. Most of us can probably go to a computer database or paper list and give a pretty good estimate of what we paid, but we are, over all, most interested in enjoying the pieces for what they are, and what they mean to us.
When someone goes off in search of that lost item from childhood, complex forces are at work. Nostalgia for the old days. The desire to find a piece of our lost youth. The hope that finding that toy will trigger old memories, fond or otherwise. The point I am trying to make is that with all of today's toys stashed away in air-tight containers, there isn't going to be anybody in 20 or 30 years who has memories of playing with them as a child. The collector may have vague memories of the hunt to locate the toy, but since he already has it, there is no special attachment to buying another. Where it used to be rare to find old toys with the original boxes, I firmly believe that will not be the case in the future.
Retrospect - Mattel Hot Wheels Internet Bus Offer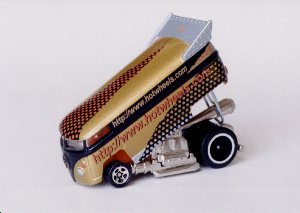 Here is my (relatively) serious take on the Mattel Hot Wheel Internet VW Bus with 1996 Collectors Guide Flip Chart offer in 1996.
In 1996, Mattel, through their web site, offered a special Internet version of the outrageously popular (and scalped) VW Bus with 1996 Collectors Guide Flip Chart for $60. The 1995 version of the flip chart was offered for sale by Mattel for a limited time for $30. So using powerful deductive reasoning (I am smiling here) one concludes that the price of the VW Bus is $30. Not such a great deal. However, since the offer says there are only 2000 items, maybe it is arguable that it is a reasonable price. Still it was a tough decision for me. I decided that I wanted the VW Bus and the flip chart. I think, in hindsight, it was the flip chart that tipped me in the direction of buying the Bus. Shortly after I ordered my set, the offer was closed on the web site with "SOLD OUT" stamped across the graphic showing the VW Bus.
The VW Bus took ages to arrive and was unaccompanied by the flip chart when it did. The rumor mill reported that the flip charts were sold out and something else would be sent. Several people reported that they did not receive the flip chart. I procrastinated contacting Mattel for about a month.
Then I heard that "Mattel Employee Only" 24K Gold Deoras (one of 1500 made) were being sent instead of the flip chart. I finally called Mattel and told them that I did not get the flip chart and asked what they were sending in its place. I got a typical mealy-mouthed "we-don't-know-but we'll-call-you-next-week-buh-bye" response. Next week does not come with a call from Mattel. I called them back. Nevertheless, I was nice. I made my way to the "supervisor" who was sugary and sweet. She dangled a 24K Gold Deora in front of my nose. I bit off her fingers retrieving it. But I wondered if it was an elaborate way of getting me to hang up.
I started to tell people about what happened. One person arduously insisted that I will never see the Deora. He whined that "Officials at Mattel deny that Deora is the replacement" and "no one else has gotten one". So I sat and waited. A box appeared on the porch. Since the Uni Bomber is jailed, I felt pretty safe and opened the box. There it was - a 24K Gold (plated) Deora. Wow! When I started to tell people about it online, one person (the same naysayer, as always) charges that I got the Deora because of who I am. I guess being "nobody" must have its rewards. He told me that none else got one. I felt no guilt. Later, reports filtered in that in fact, others DID get the 24K Gold Deora. There goes the market....
Then offer was reopened. The substitute for the flip chart was to be some Hot Wheels Revealers. Conflicting reports claimed alternately that the Revealers were either
a.) The single packaged ones sold in stores OR

b.) The 10-car set that was sent to token holders as a prize.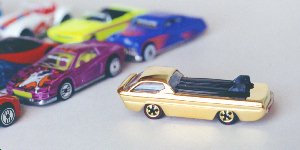 The ten car set ends up being the replacement. I think the losers in this deal were the people who actually got what the offer promised (the flip chart). The 24K Gold Deora was selling for $150 before the time when they got shipped as replacements. Recent auction prices show that the Deora has held its value. I have seen confirmed selling prices that range from $62 - $152. The 10-car Revealer set was selling for up to about $80 before being shipped as a replacement. It is now selling for between $10 and $25.
Many cried foul because the original offer claimed that there were only 2000 VW Buses. Unconfirmed reports put the number of Internet VW Buses closer to 8000 units. The Internet offer actually made it clear to me that there were 2000 Bus/Flip Chart packages to be sold. Current confirmed auction prices for the Internet VW Bus hovers around the original $60 mark (all sold without the flip chart/Deora/Revealer set). My only complaint is that the VW Bus came in a baggie and not a Limited Edition blister card or box. However, I am saving the empty baggie - it might be worth something someday.
The Chrysler Atlantic is now being offered on the Matchbox web site. The price is $10. All you get is the car - no extras. I think that Mattel learned their lesson. Am I happy that I ordered the VW Bus? Yes. Would I do it again? It is hard to say - my wife and I both like to collect Volkswagen items and this qualifies. But I don't think I will be ordering the Internet Chrysler Atlantic because I think the tampo's look bad. I am disappointed that the Inaugural Series that was to have included the Atlantic was discontinued before all the cars were released. I think that the left-over Atlantics were probably used to make the Internet Offer car. This one car would have been nice to have without any markings on it. Here's a thought. What if they had a special offer (at additional cost if need be) that brings us a car WITHOUT stupid tampos - an exclusive! All other variations of the casting would come in different colors and HAVE stupid tampos. Now that is my idea of a deal. Less is more! What a concept!
Hot Wheels Intrigue
If you collect something long enough, you run across all kinds of stories that seem too incredible to believe. I have learned that most of the things I hear have to be taken with a grain of salt. A few years ago there were stories about Hot Wheels Treasure Hunts being stolen from warehouses and trailer trucks; backroom deals between retail store employees and scalpers; brawls and fist fights in stores, and fraudulent vehicles of all descriptions. It is a sad commentary on how far people seem willing to go to get the advantage over other collectors and "dealers". It has adversely affected the hobby. It has become undesirable to be recognized as a "collector" by store employees because of all the bad treatment dispensed by people confused with collectors. But nothing can top the events of early October, 1997.
I attended the Hot Wheels Newsletter convention in Atlanta. It was an interesting experience. Collectors from around the world converged on a dingy hotel to spend a week trading, selling and buying Hot Wheels. People, who had items to sell, set up in their hotel rooms. Unlike a show where everyone is in one room, the event was spread out over three hotels. The selection of Hot Wheels ranged from the mundane, fresh from the store variety to the more elusive, and considerably more expensive pieces from some very serious collectors and vendors. While I was not impressed with the management of the convention itself, the selection of toys to buy was staggering. And so were the prices. But this assortment of people participated in a charity auction to benefit the Ronald McDonald foundation and raised over $50,000, so, despite appearances, there were plenty of people there with pockets deep enough to buy the exotic wares on offer.
But more interesting was the exploits of one unknown attendee who came to the show with his own special selection of Hot Wheels to sell. Let me give you some background. A couple months before the show date, a mail-in offer was announced on the Internet. The terms were pretty simple: Purchase some sort of maintenance service from a lesser-known franchise of oil-change shops, get a coupon, and buy up to two Limited Edition VW Buses for $5 each plus shipping. Since the VW Bus is a hot casting, and very hard to get in the Hot Wheels 1996 First Edition packaging, this offer was very popular and no doubt sold out rapidly. A friend who attended the show with me drove from Toronto Ontario, Canada to Cincinnati, Ohio to locate a franchise shop that had the coupons!
So my friend and I booked a room in the main event hotel (no small feat), attended the convention, set up our wares, and began welcoming visitors. Not long after we opened, people started coming through with these special offer VW Buses. When asked, they reported that "some guy is walking around with a case, selling them…". Well at this point, it does not seem very surprising. There were so many people there selling so many things, that one more toy isn't that notable. But then we talked to one of our friends from the south-west. I happened to mention that I saw a bunch of these VW Buses. This soft-spoken person then became very animated. It seems, he told us, that the VW Bus in question was not due to be delivered to the offer promoters for about another week, and none had yet been shipped! So how, I asked, did this person get cases of them to sell at the show? He told me that the offer promoter was AT the show and was wondering the same thing, since he had not yet taken delivery of his VW Bus inventory! Since it was an exclusive offer, there was no chance that another reseller was releasing stock.
From here the story goes into solid hearsay mode. My friend assured me that the wandering VW Bus dealer was going to have some tough questions to answer if the offer promoter caught up with him. The itinerant vendor of potentially ill gotten goods was last seen making a hasty retreat out of Atlanta in a van loaded with VW Buses.

Click here to see a selection of
Die Cast Collector books from Amazon.com