Toy Trader
Die Cast Insider - March 1998
© 1998 Paul M. Provencher
1/64th Scale Die Cast Ramblings
The last few years have been good for collectors of small scale die cast. They have also been difficult. We have seen the level of interest in collecting skyrocket and the competition for new items grow in kind. In the late 80's, there was nowhere near the number of choices. For mass-market, retail die cast subjects, the choices were fairly straight forward. Hot Wheels, Matchbox, Majorette, Corgi, Dinky. They all had standard lines and few if any limited editions. Collectors complained that there were not enough subjects. Over the next few years, more variations and new brands appeared. Collectors, car lovers and gift-givers found lots more to choose from. Playing Mantis surfaced with the repro-Johnny Lightning line. Mattel released their 25th Anniversary and Vintage repro's. More Hot Wheels series cars were developed and introduced. There were unending series of Johnny Lightning Muscle Cars. Matchbox nearly disappeared. Corgi came close too.


"Limited Editions"
Then there was the start of the randomly distributed "limited editions". Johnny Lightning White Lightning, Hot Wheels Treasure Hunts, Matchbox Challenge and Racing Champions Chase cars. If any one thing can be credited with having the most impact on the collecting of die cast vehicles, these so-called rare items and the attendant marketing hype deserves the prize. While nothing can equal the thrill of finding one of these items on the shelf in a retail store, the problems that arose because of them have changed the hobby.

I got interested in Hot Wheels again because of the classic cars (Packard, Duesenberg, Talbot Lago, et al). From there, I got interested in the collector numbers. They are pretty easy to find, generally pretty consistent quality, and quite durable. As a pure collectible, Hot Wheels do not likely offer the best return on investment - the current flood of cars from Mattel pretty well assures that most, if not all Hot Wheels will be pretty abundant for years to come. I often find last years hot stuff on the pegs in stores with flea market stickers still on them. To me, this is a sure sign that the price in the secondary market on these items has run its course. Over-anxious collectors who have paid ten times the retail price for a piece such as this eventually find that the purchase never yields a dividend, and perhaps that friendly "dealer" was not really such a big help after all.

In January of 1995, when the first Treasure Hunts starting shipping to stores, they were relatively unknown and fairly easy to find. At the time, I thought that it would be easy enough to find them all in the normal course of shopping. But by March of the same year, they were so widely publicized that it is unlikely that the majority ever made it to the shelves. People who never collected toy cars got attracted to them because of the easy income that could be generated by selling them at shows. At the Hot Wheels Convention in October 1997, the Mattel representative announced that there would be Treasure Hunts for 1998. The crowd booed. I have heard stories about things that have happened in stores that are amazing, with Treasure Hunt cars being the root cause.

For example, a friend in San Diego California was shopping in a discount toy store and found a Treasure Hunt. As she stood there admiring her find, an aggressive young man walked up, grabbed it out of her hands and ran away. Last week, I received a report from a reliable source that a friend of his saw a Treasure Hunt hanging on a peg, reached for it, and was stabbed in the back of the neck by another customer who apparently thought that this attack would be necessary to get the car. One of them went to the hospital and the other to the police station. Neither of them got the Treasure Hunt. I have been shopping, found Treasure Hunts, and then run into someone who insists that since I already have one, that the one in my hand belongs to them... I have watched grown adults tear apart displays looking for them and leave the mess behind for someone else to pick up.

In my opinion these "limited edition" and "random insert" marketing tactics create a false impression of rarity and have attracted a bad element to the hobby. And unfortunately, many collectors think they have no choice but to buy these pieces from scalpers or go without. For the lucky few who have friends to trade with or live in an area where interest is not so out of control, life is much simpler. I refuse to pay scalper prices for items like the Treasure Hunt series cars. I do not consider them limited editions, have not seen many that I could not live without, and have a fundamental problem with paying someone 10 or 20 times the retail value for something like an 89 cent car that left the factory two months ago.

One might think that in consequence, I do not have very many of these type of cars. But in fact, I have completed Treasure Hunt series for 1996 and have come close to finishing 1997 without having to pay scalper prices. I still have a few left to acquire for 1995, but time is on my side. I doubt that the prevailing market price of these items will ever exceed what scalpers were selling them for when they first came out. I recommend that you try to find them in stores, trade them with people who feel the same way, and generally take your time. With somewhere between 10,000 and 25,000 Treasure Hunts made, I think that the ones you are missing will find their way to you in due course.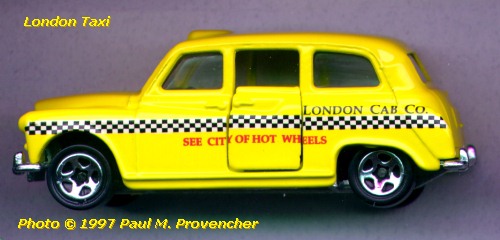 Too Many Cars?
Today there are lots more vehicles to choose from. So many in fact that some wonder where it stops. I will confess that I was swept up in the concept of collecting whole series of cars. I do my own shopping and have put some miles on my sneakers trying to get the complete sets. For example, from 1985 to the present, I have tried to get every Hot Wheels subject produced. In the last year that has become a daunting and expensive proposition. In the series cars and Treasure Hunt lines alone, Mattel made 72 different cars, many in more than one variation. Mattel is also in the third year of producing Hot Wheels Collectibles for the Adult collector. These sets typically sell for between $20 and $50 for as few as two cars and as many as four. The Collectible line is a much nicer product and merits a higher price, but is no longer cheap to collect. Then there is the regular line of collector numbered Hot Wheels. There were approximately 200 new variations released last year alone! If you were to buy one of every car in the Hot Wheels line last year, you would have spent at least $500 (retail prices). And that does not take into account the Limited Editions that are sold by legitimate dealers, and the flood of promotional items that are offered by various food companies.

Corgi made a reappearance in 1995 with the Mattel logo adorning the Auto City line. Mattel revised the bases of the cars, adding their trademark, developed new tampo designs and colors, and began integrating the Corgi castings into the regular Hot Wheels line. The FAO Schwarz set of black cars with gold accents were all Corgi Castings. The Corgi castings also appeared in the international market on new Hot Wheels packaging. Next these cars were folded in to play sets and special purchase items, such as the Target sets released for the Holidays in 1996. Most recently, these Corgi castings have started appearing in single blisters as part of the regular Hot Wheels "Collector Number" line. Most cars have been made in China and feature a new "form fitting" blister package. I welcome the return of the Corgi castings and look forward to seeing what Mattel is doing with them! One thing that is good is the use of the Hot Wheels wheel in lieu of the rather unattractive Corgi wheels.

I have managed to avoid getting too obsessed with Matchbox. I have always stuck to "buy what you like" with Matchbox and have managed to keep it that way. I got many of the Premiere series sets, but eventually tired of the variations. I got the Inaugural Series cars up to the point where the line was discontinued. I have bought several of the new 1997 castings. I have less that 100 "new" Matchbox cars and feel they are items that I would buy again. It was only recently that I was able to find a Matchbox Challenge car in the store. I treasure the few vintage Matchbox cars that I have and really think that I may get more actively involved with getting the old Lesney castings that were current when I was a kid.

Matchbox has started producing some subjects that are easier on the eyes of adults. The recent release of the Viper GTS, Alpha Romeo, Chrysler Atlantic, '56 Ford Pickup, to name but a few, shows that Matchbox is not gone by a long shot. And lest anyone be quick to attribute the turn around to Mattel, it should be noted that the folks representing Mattel at the Hot Wheels convention (designers) made the comment that "...Matchbox does their own thing. " I am happy to hear that. I can remember being disappointed with Lesney when Superfast wheels were put onto Matchbox toys. Ironically, it is the new wheel on the new Matchbox offerings that I like best about them. I dislike the "spiral" wheel that has been on Matchbox cars forever. The first time I saw the new wheel style, I knew there was hope yet for Matchbox.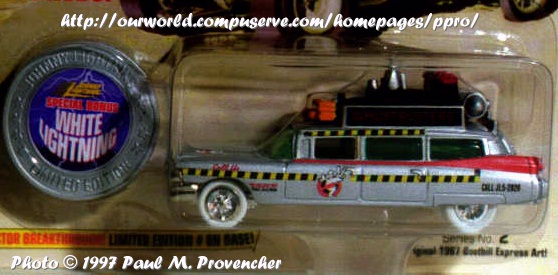 I have not been buying many Johnny Lightning cars lately. This is in part due to the fact that I am not really a big Muscle Car fan and I am not really a big lover of fantasy cars and Funny Cars. Another reason that I cut back my Johnny Lightning collecting was price. They are considerably more expensive than other cars of the same size and often are not as nicely finished. The biggest problem with many Johnny Lightning vehicles is the poor appearance of the tires and wheels in relation to the size of the casting. And after 12 different variations of the same casting, some in hideous colors, I started to realize that I was collecting these cars not because I liked them but because I somehow thought I needed to get them all. At one point it threatened to become a full-time activity. And here again, these vehicles, with few exceptions, are not rare. With the exception of the first White Lightning series (1400 each of eight castings), the Muscle Cars (first edition) Series 2 Boss 302 with a casting error (1600 made before the casting was changed), a Ghostbusters White Lightning (200 made) and a few others, each person in a city of 20,000 people could have their own complete collection of Johnny Lightnings. And even though some of them are rare, they are not cars that I would normally admire. I have also learned that many Johnny Lightning cars are put on clearance sale after a few months. This can represent a saving of as much as 75% off the original retail price. Granted, the popular ones will not make it to clearance, but for the collector of "everything they made", this can be a real bonus.

Of all the series that Playing Mantis are running, I find the Hot Rods series to be the most interesting. There are a host of unique subjects that are not being done ad naseaum everywhere else. The colors are a bit uneven, but once again, collecting just what you like, there is sure to be a color sooner or later that works for you. I must voice the same criticism about the wheels. There are some nice subjects in the Hot Rod line that are let down by the badly scaled and poorly positioned wheels and tires.

Paul M. Provencher

Click here to see a selection of
Die Cast Collector books from Amazon.com