Asahi Pentax Filters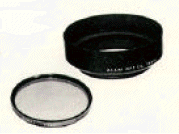 FILTERS AND LENSHOODS

Asahi Pentax lenshoods are recommended for use whenever possible to guard against off-angle light which will cause flare in your pictures. (All Takumar lenses from 85mm up to 1000mm are supplied with a special lenshood.)

Improve your picture quality by using the Asahi Pentax filters that are precision-ground, polished and coated for your Asahi Pentax
Ghostless UV | UV | Polarizer | O2 | R2 | YG | Y2
Ghostless UV 49mm
Asahi Pentax Ghostless Filter

Diagram 1 shows how a ghost image (A') sometimes appears on film when pictures are taken against light (neon signs, street lights, moon, etc.) using a conventional filter. The Asahi Pentax Ghostless Filter is a breakthrough in filter design. With this curved U.V. filter, the image light reflected back to the Ghostless filter and retransmitted through the lens forms a duplicate image in the air (A' in Diagram 2), thus eliminating a ghost image on film plane. It is available in 49mm size only.
Ghostless UV 49mm
Ghostless UV | UV | Polarizer | O2 | R2 | YG | Y2
---
Photos, Layout and Design © 2006 Paul M. Provencher All Rights Reserved.
Contents of this Web Site may not be used without written permission.
31-Dec-06 10:54 PM